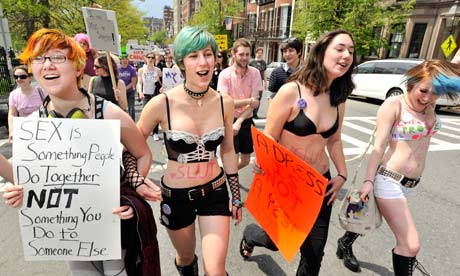 I honestly cannot remember is someone already wrote about this topic, so if they do, my apologies. Last week in class we discussed feminism. I remembered this one topic that has become very popular over the last year; it is called the "SlutWalk". The first SlutWalk protest took place on April 3, 2011. The walk and protest was in response to a comment that a Toronto Police officer said in suggesting how women should attempt to stay safe, "women should avoid dressing like sluts". This statement caused an uproar and the founders of the SlutWalk stated that they found this term derogatory and they did not believe the clothing a woman wears should give a male an open invitation to rape. Today there have been hundreds of SultWalks all over the world. The protests often take the form of a march, mainly by young women, some dressed normally and others dressed provocatively, or in their deemed "slut attire".
In response to our discussion on Feminism, I was curious as to what the feminists are saying about this walk. After researching a bit, it seems that they are not happy about these walks at all. Some popular responses have questioned the wisdom of using the word "slut," in the walk's title name, suggesting that "far from empowering women, attempting to reclaim the word has the opposite effect, simply serving as evidence that women are accepting this label given to them by misogynistic men."
What is your response to the slut walk? Do you all think they went about it the right way? Or do you agree with the feminists that they are continuously using a derogatory term and therefore reinforcing the idea?